Meet the Chevrolet Blazer, an uncompromising force in the off-road world. Its evolution is a testament to Chevrolet's incessant pursuit of off-roading excellence, combining rugged strength with technological mastery. From its humble beginnings as a workhorse to a contemporary marvel loaded with advanced features, this charismatic SUV has transformed over the years to conquer terrains. This article delves into its rich history, underlining its metamorphosis that captures the true spirit of off-roading adventure. Dodge the smooth roads, it's time to embrace the rough unbeaten paths with the trail-blazing Chevrolet Blazer. Buckle up for an exhilarating ride traversing its fascinating evolution.
Blazer's Early Years and Initial Off-Roading Capabilities
In the late 1960s, Chevrolet ventured off road with the introduction of the Chevrolet Blazer that built a reputation for its raw sporting capabilities. Piloting the early Blazer off-road was like having a rowdy wrestling match with Mother Nature – and winning. Back then, it was a basic, utilitarian device, essentially birthed from the underpinnings of a pickup truck, sporting a truck chassis cloaked with a removable top.
The Blazer's pleasingly minimalist design was complemented by its even more gratifying functionality. Its raw unrefined spirit was its selling point. From the onset, Chevrolet pitched the Blazer at drivers who wanted utility and off-road capability, paired with enough civility to serve as a daily driver. It was a dedicated machine that would forge bravely through trails that would leave lesser vehicles in a scattered pile of bent metal and broken glass.
Particularly remarkable was the Blazer's initial off-road prowess. It was a true 4×4, equipped upfront with a robust live axle suspended on coil springs, giving it both the ruggedness and flexibility needed to navigate harsh terrain. The rear suspension was a solid axle with leaf springs, a setup still used in most of today's hardcore off-road vehicles, as it offered an excellent combination of durability and load capacity.
Early Blazers were powered by an array of engine options, from inline-six to big-block V8 engines, ensuring that there was more than enough grunt to get the beastly vehicle through the dirt, up mountains, or across rivers. This, coupled with a rugged manual transmission, and later, a trusty three-speed automatic, made the Blazer a reliable off-roading partner.
Furthermore, these functional elements were complemented by the Blazer's short wheelbase and high ground clearance, enabling it to crawl over rocks and roll through water obstacles with ease, earning it a prominent spot among off-roading enthusiasts. It was these mesmerizing early years that propelled the Blazer into the very heart of American four-wheeling culture, establishing a firm baseline that mapped out the course for the evolution we see in the Blazer today.
From humble beginnings assessed not for their aesthetic allure but an uncompromising commitment to off-road performance, the Blazer underscored a pivotal statement to competitors – that this two-door beast was more than just a pickup with a roof. It was and still remains a symbol of off-road potency, a harbinger of the SUV era. Now, let us dive into a deeper exploration of how utility met style in the coming years…
From Utility to Style: Changes in The 90s and Early 2000s
The '90s and early 2000s proved to be pivotal years that shifted the Blazer's developmental curve from being merely a utility vehicle to one exuding style and charisma. The Blazer of this era evolved into an adaptable beast, suited for both the rugged outdoors and the polished city-scapes.
Gone were the days when the Blazer was just a stomping brute designed for trudging through the rough and tumble of terrains. It emerged into the '90s with its iconic square-body design transformed into a more aerodynamic silhouette. The rounded edges, the addition of independent front suspension for enhanced ride comfort, and upgrades to engine performance gave it an aura that was hard to deny. The Blazer was no longer just a tool for navigating inhospitable landscapes; it had become a statement of style and personal expression. It demonstrated a seamless blend of strength, agility, and sophisticated aesthetics.
The early 2000s continued to drive the Blazer's transition from a utility-first design narrative. In 2002, we saw the introduction of the TrailBlazer, which was essentially a more luxuriously equipped version of the mid-size SUV. With a refined chassis, more powerful engine options, advanced infotainment systems, and swankier interiors, the TrailBlazer was a marked departure from Blazers of the past, and a strong example of Chevrolet's commitment to coupling off-road prowess with on-road sophistication.
Around the same time, Chevrolet also debuted the Blazer Xtreme, which was more the street-engaging vehicle than an all-terrain monster. Lowered suspension, 'ground effects' bodywork, and sharp 16-inch alloy wheels marked its street-side persona. Nonetheless, the Xtreme managed to retain the robust spirit of the Blazer heritage, underlining the SUV's evolution in design and character without compromising its core DNA.
In summary, this period represented a significant leap in the transition of the Chevrolet Blazer from a pure utilitarian vehicle to a stylish, versatile SUV. The Blazer's evolution was a reflection of changing consumer attitudes and expectations – it wasn't just about getting from point A to B anymore, but about the experience, the comfort, and, yes, the style of the journey.
Revamping the Blazer: New Off-Roading Features
The revamping of the Blazer takes off-roading features to the next level. By straddling the line between rugged sophistication and pure off-roading might, Chevrolet has been able to capture a Blazer that isn't afraid to roll up its sleeves when duty calls.
In terms of power, the Blazer offers three different engine options, starting with a 193-hp 2.5-liter four-cylinder engine. For those who thirst for more power and performance, a 2.0-liter turbo and a 3.6-liter V6 spreading its wings to provide 308 horsepower are also available. As for the transmission, every Blazer comes mated to a nine-speed automatic transmission, manifesting agile handling and fluid shifts that enhance the robust character of the vehicle.
The feature that really accentuates the off-roading capabilities of the Blazer is the advanced all-wheel-drive (AWD) system, available with the V6 option and standard on the premier RS model. This system has a 'twin clutch' design that actively directs torque to the wheel with the best traction in slippery situations, flagging a confidence-inspiring experience for the driver when embarking on off-road terrains.
The Chevy Blazer has also been lavished with a host of electronic aids to help facilitate off-roading. There is the Hill Start Assist that prevents the car from rolling while accelerating from up-hill stop, while the Hill Descent Control enables a slower, controlled, and safer descent on steep terrain.
Another commendable feature is the Driver Mode Control – a system housing a variety of driving modes. The Tour mode is best suited for everyday driving, Sport mode enhances responsiveness and dynamics for a more spirited drive, while the Off-Road mode adjusts throttle response and chassis control systems. This versatility greatly enhances the Blazer's off-road credentials.
Better still, the Blazer's aesthetics doesn't betray its rugged attributes. The Dynamic Suspension Damping Control, an available feature in Higher trims, assures better ride control and comfort while off-roading, thus merging luxury with ruggedness.
Inside, the cabin is characterized by practicality and innovation. The horizontal layout, easy-access controls, and stowage space make the Blazer a comfortable place to be in during those long, adventurous journeys. The cargo management system with Fence is another interesting addition, enabling drivers to customize the rear storage space to accommodate different types of equipment.
In essence, the Blazer has reasserted itself in the realm of off-roading vehicles with features that are not typically found in the segment. Once defined by its utility, Chevrolet has successfully reinvented the Blazer as an SUV interests of those unafraid of straying off the beaten path, all without sacrificing the style and luxury today's drivers demand.
Modern Day: The Blazer's Current Off-Roading Prowess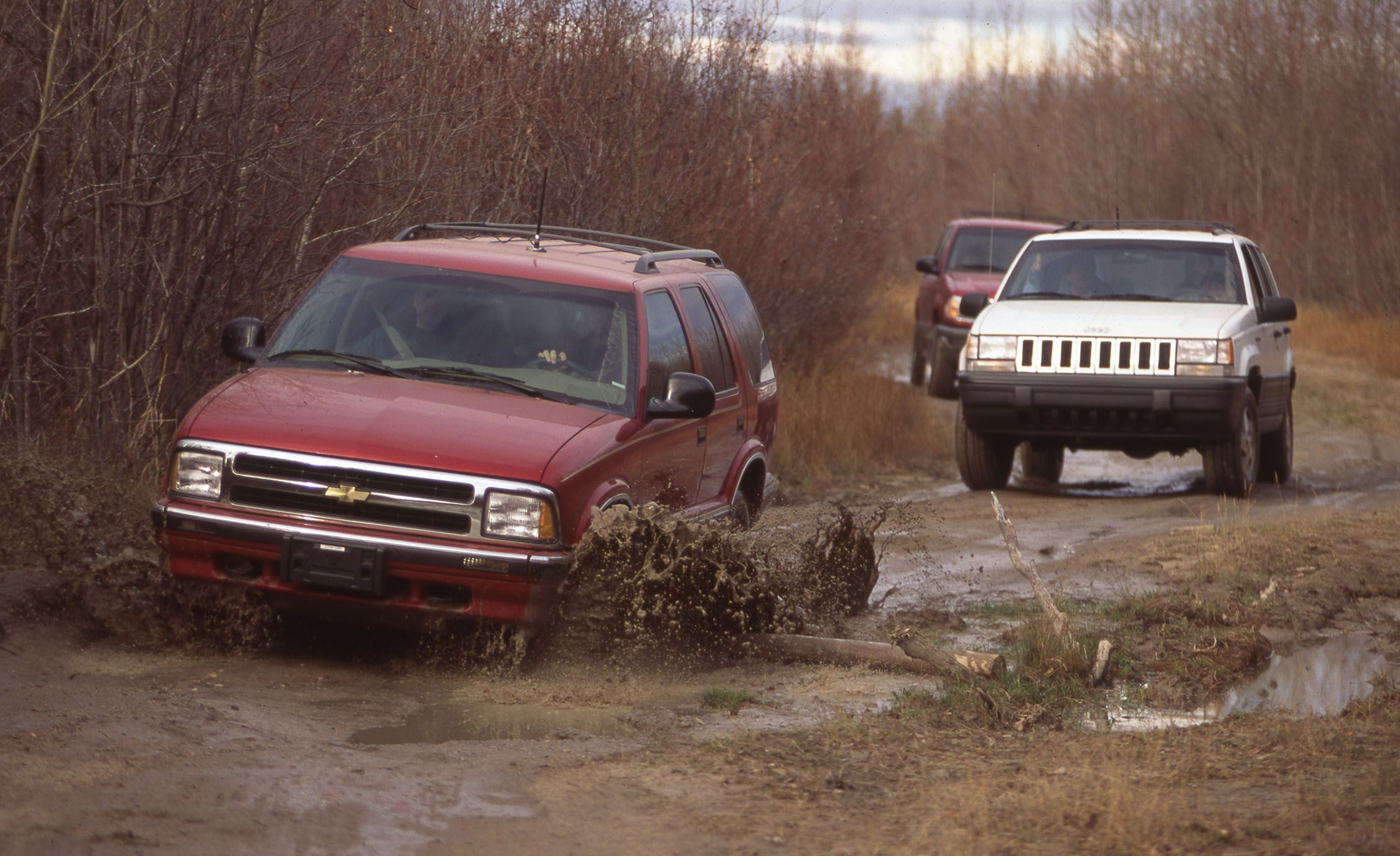 The 21st-century inhabitants of this world of torque and traction are meeting the Chevrolet Blazer with a newfound lens, and it is safe to say the SUV has turned into a magnetic powerhouse of off-roading ingenuity. Its current incarnation is loaded with contemporary off-roading features designed to conquer different types of terrain, making it a fierce contender in the world of rugged, adventure-seeking vehicles.
Advanced technology takes the driver's seat in the new Chevrolet Blazer, introducing a plethora of high-tech components, such as the Traction Select System. With this feature, it's easy to switch between different modes that adjust the vehicle's performance based on the prevailing road conditions. Whether you're trekking over rocky landscapes or cruising sandy beachside paths, you can select the mode that will offer optimum grip and control.
The Blazer's All-Wheel-Drive (AWD) system adds another stroke to its off-roading prowess by delivering torque to all four wheels, enhancing traction in challenging conditions. Additionally, the latest models exhibit superb clearance for vehicular navigation in all terrains. A sturdy suspension and authoritative horsepower further embellish the Blazer's off-road ferocity.
Then there's the suite of advanced safety features, such as Hill Descent Control, that ease the driver's stress during steep downhill terrains. Automatic braking systems, forward collision alerts, and lane-keeping assists offer an extra layer of safety, particularly beneficial during intense off-road drives.
The modern-day Blazer offers a host of features that meet the needs of today's off-roading enthusiasts. Its ruggedness doesn't compromise its interior comfort, which offers premium features and finishes, taking the Blazer's swagger up a notch. The new Blazer is designed with a nod to urban sophistication, but get it on an off-road trail, and it becomes evident that this SUV has not forgotten its roots. Designed to offer the best of both worlds, the Blazer's modern-day iteration proves to be a gear-head's elixir.
Indeed, whether it's a leisurely drive through town or a challenging journey over treacherous terrain, the Chevrolet Blazer in its current form upholds and embellishes its reputation as an off-roading expert. A marvel of modern automotive technology, the Blazer continues to evolve, constantly anticipating and meeting the escalating demands of off-road enthusiasts.
FAQs
How has the Chevrolet Blazer evolved in off-roading capabilities over the years?
Well, my friend, buckle up because we're about to take a bumpy ride down memory lane. The Blazer's transformation is like that of a hipster barista – starting out rugged, simple, all business. Early models were bare-bones utility vehicles, with solid axles and a lust for mud up to their eyebrows. But, like our barista discovering the art of latte foam, the Blazer discovered modern amenities and user friendliness – introducing independent suspensions and on-the-fly 4WD systems. So now, we have a ritzy ride that's just as happy climbing a mall curb as it is scaling a mountain, all while blasting your favorite tunes through a Bose audio system. Quite the glow-up!
Were the early models of the Blazer better at off-roading?
'Better' at off-roading? Depends on who you're asking! Some hardened off-road enthusiasts will argue the original versions, with their Spartan robustness and 'drive-me-off-a-cliff' demeanor, were champions in their league. But if you fancy your creature comforts and wouldn't mind a bit of technology to tackle that muddy trail, the new-age Blazers would seem like a regular off-road concierge! It's kind of like comparing a mountain goat to a skilled mountain climber. One's got raw talent, the other's got tech and training. Pick your side.
How does the current Chevrolet Blazer hold up in off-roading?
Ah, the current Chevy Blazer, a showcase of what you can accomplish when you bring a decent budget to the tech party. Now equipped with an independent front and rear suspension, along with trendy gizmos like a Traction Select System, it's all set to tackle a variety of terrains. It's like a Swiss Army knife on wheels! Now are you going to conquer the Rubicon in it? Probably not. But for the weekend warriors looking for something that stamps a firm tick on the practicality checklist while still letting you get your boots dirty periodically – the current Blazer is quite a catch.
Conclusion
The Chevrolet Blazer's off-roading capabilities have seen significant transformations, moving from a rudimentary utility vehicle to a state-of-the-art off-roader. It's a testament to Chevrolet's commitment to innovation and refinement, always seeking ways to enhance the driving experience. Whether it's enhanced suspension systems or advanced 4-wheel drive technology, the Blazer continues to push boundaries and lead the pack in off-road capabilities. This blend of history and futuristic vision is what makes the Blazer such an exciting model in Chevrolet's lineup.