Dive into the innovative world of Chevrolet Spark, a compact car engineered for urban maneuverability and exceptional fuel efficiency. Packed with surprising features and a peppy spirit, it's sparking a revolution in city driving. As we unpack this pint-sized power-player, prepare for an exploration of how it's curbing urban driving dilemmas with its nifty design and tech-filled cabin. Buckle up, as we delve into the twists and turns of this game-changing city car phenomenon.
The Design and Aesthetics of Chevrolet Spark
Nothing screams urban compactness and affordability like the Chevrolet Spark. Its design is charmingly minimal, with concise outlines that make it an ideal pocket-size road runner. Even the smallest, most crowded city streets become navigable rivers of asphalt under the confident nose of this little Chevy.
The aesthetics of the Spark strike a delicate balance between cuteness and coolness, managing to come across as both jaunty and sporty at the same time. Its face is adorable yet bold with the signature Chevrolet grille flanked by big, curious headlights. It's like a plucky chipmunk that's been chromed up for a city adventure.
The side profile of the Spark is both sleek and straightforward. A rising window line angles towards the rear, combined with a compact roof, to create a look that says: 'No, I didn't skip leg day. Yes, I can handle the urban jungle.' Rounded corners and smart sculpting give it a ready-for-action stance, with a modern feel that fits in perfectly with city landscapes.
The Spark's color palette adds another level of fun to the aesthetics. With a range of lively options, including Passion Fruit, Caribbean Blue, and Toasted Marshmallow, you can tell this car doesn't take itself too seriously. Each hue clearly echoes the car's persona, allowing the driver to express their personality through their choice of car color.
Inside, the Spark is nothing short of a surprise box. The cabin's design uses every square inch smartly, given its exterior compactness. The interior aesthetic is minimalistic, with logics of space utility taking precedence. Yet, it doesn't lack flair with the color-coordinated trim and seats, and modern design touches throughout.
Even in the tiny details, like the squared-off door handles or the circular air vents, you see a combination of functionality and design cleverness that echoes the whole ethos of this car. It's a compact, affordable urban warrior that looks good while being practical.
All in all, the design and aesthetics of the Spark reinforce its solid footprint in the urban car market; a sort of 'Small but mighty' vibe that proves you don't have to be huge to attract attention and get respect on the roads. It's a tiny titan of efficiency and style, fully equipped for the city's hustle and bustle.
Understanding Fuel Efficiency
Fuel efficiency is an important consideration for any driver, especially those tackling congested urban landscapes. It's where the Chevrolet Spark truly excels, due, in large part, to its diminutive size and intelligently designed engine.
The Spark runs on a 1.4-liter four-cylinder engine that musters up an admirable 98 horsepower. It may not sound like much on paper, compared to the muscle flexed by larger vehicles, but let's flip that script to give you some context. You're not looking to haul loads or race down freeways; you're searching for a car that'll provide performance without exacting a high price at the pump – this is precisely the Spark's forte.
We're talking about a car that gets an EPA-estimated rating of 30 miles per gallon in the city and up to an impressive 38 miles per gallon on the highway when equipped with the automatic transmission. With the standard five-speed manual, the Spark gets 29/38 mpg city/highway. These figures imply fewer trips to the gas station, which means more money saved.
What makes the Spark so fuel-efficient? One of the most significant factors is its weight — or lack thereof. Weighing in at less than 2300 pounds, the Spark is one of the lighter cars on the market today. Lesser weight means a lesser burden on the engine, leading to better fuel economy.
Consider, too, the car's aerodynamic design. Ever seen a Spark blade through traffic like a hot knife through butter? That's not just the compact design making maneuvering a breeze. The carefully designed body shape reduces drag which, in turn, improves fuel efficiency.
Moreover, the Spark incorporates several smart features to improve its fuel efficiency. The continuously variable automatic transmission (CVT) is designed to adjust engine output to maximize efficiency continuously. The Electric Power Steering (EPS) system reduces the drag on the engine by eliminating the traditional hydraulic power steering pump.
So, in understanding the fuel efficiency of the Chevrolet Spark, you are not just looking at a car with impressive miles per gallon figures. You are admiring an intelligently designed, lightweight car that uses advanced technology and great design to save your money at the fuel pump. Thus, Chevrolet Spark makes the most sense if your driving is primarily confined to the city and, occasionally, the open highway.
Maneuverability and Compactness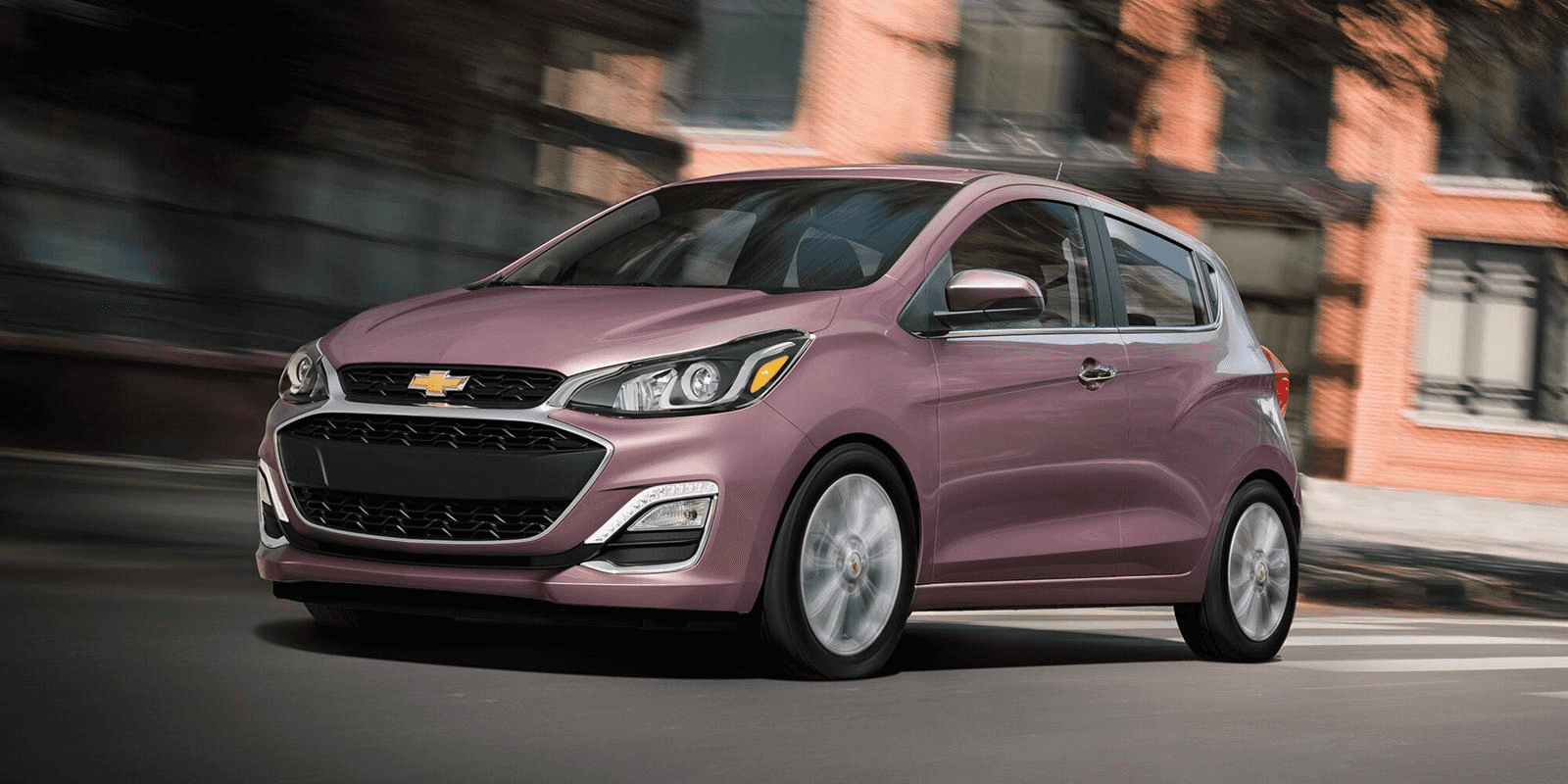 The Chevrolet Spark truly shines in its maneuverability and compactness, achieving a remarkable balance between city-smart size and spry agility on the roads. It's a petite car that doesn't let its small stature restrict its performance but rather utilizes it to enhance its nimbleness in urban conditions.
Picture this. You're on an errand run in the heart of a bustling city. The streets are a maze of traffic, dotted with impatient drivers and surprise obstacles around every corner. Now, imagine the delight of being able to negotiate this urban jungle with the ease of a parkour athlete, thanks to the Spark's minuscule turning radius of just 33.8 feet. The radius, shorter than many of its competitors, allows for U-turns and parking maneuvers that would make larger cars break into a digital sweat.
However, the Spark doesn't just excel in making tight turns and squeezing into miniscule parking spaces. It also attributes its city-smart design to its ultra-compact dimensions. Standing at just 143.1 inches long, 62.8 inches wide, and 58.4 inches high, the Spark allows drivers to slip through tight traffic with the agility of a motorbike and yet, provide the safety and comfort of a four-wheel ride.
Interestingly, the Spark's compactness serves another purpose that goes beyond the obvious perks of easy parking and maneuvering. It allows drivers to peel away from traffic lights and stop signs with a surprisingly peppy pick up, thanks to the vehicle's impressive power-to-weight ratio that only compact cars can harness.
Despite its diminutive size, the Spark provides ample room for both driver and passengers. The high roofline ensures generous headroom, and the rear seats boast surprising back seat legroom for its class. Better yet, the 27.2 cubic feet of cargo space with the bench down is generous enough to accommodate your grocery bags, or even a few suitcases for a spontaneous weekend getaway.
In essence, the Chevrolet Spark's compact stature and exceptional maneuverability work in tandem to create a driving experience tailored for the city. It exemplifies the phrase 'good things come in small packages' in a manner that's synonymous with urban driving efficiency. This ultra-compact hatchback shows that sometimes, less truly is more when it comes to tackling the demands of urban driving.
Smart Features and Technology
The Chevrolet Spark is not just an urban car with an attractive design and killer fuel efficiency – it's also a tech wizard. For those tech-savvy urbanites, the Spark's extensive array of smart features and cutting-edge technology are a veritable cornucopia of convenience and connectivity.
Stepping into a Spark, one of the first things you'll notice is the 7-inch color touchscreen that comes standard on every model. The technology isn't merely skin deep, housing Chevrolet's Infotainment System. The system provides access to real-time maps, phone integration, music, and several other apps. Apple CarPlay and Android Auto compatibility are the cherries on top, offering a seamless connection between your smartphone and the car's interface.
But, the tech doesn't stop at entertainment. The Spark also boasts a slew of safety features powered by sophisticated technology. It comes standard with 10 airbags and includes a rear vision camera. Available driver-assist features like Forward Collision Alert, Automatic Emergency Braking, and Lane Departure Warning provide an extra level of protection not typically found in cars in this price range or class. This treasure trove of tech increases not just your comfort, but your confidence while driving.
When it comes to connectivity, the Spark is in a league of its own. You're never far from the digital world with available 4G LTE Wi-Fi, creating a mobile hotspot inside your car. Whether you want to stream music, keep up with social media, or handle important business calls, the Spark allows your digital life to smoothly transition onto the road, making it the perfect urban car for a connected lifestyle.
Few vehicles integrate their technology as seamlessly or as usefully as the Chevrolet Spark. While it may be small in size, it stands head and shoulders above some of its larger counterparts when it comes to smart technology, ensuring that you never have to sacrifice connectivity for the sake of compact convenience.
Comparison with Other Urban Cars
Given the urban driving market's near saturation with compact, fuel-efficient models, it's important to consider how the Chevy Spark stacks up against its competition. Conspicuous contenders include vehicles such as the Ford Fiesta, Honda Fit, and Hyundai Accent to contend with.
Starting with the Ford Fiesta, this pint-sized dynamo also touts a solid fuel-economy, with city/highway mpg figures just a little less impressive than the Spark's. What it lacks in sheer efficiency, though, it compensates for with a more engaging drive and a more upscale looking interior. Yet, compared to the Spark's price point, you may find the Fiesta a bit heavier on the pocket.
Next up, the Honda Fit – a model that has held stead in the compact car arena for years now. While the Fit might seem slightly larger than the Spark, it's still very much an urban-friendly vehicle. Noteworthy in this machine is its interior, which offers an unexpected amount of passenger and cargo space considering its footprint. Fuel efficiency, comparable to the Fiesta rather than the Spark, seems an acceptable compromise for the additional roominess. However, the Spark still wins in terms of in-car technology and connected features.
Last but not least, we have the Hyundai Accent, another long-standing figure in the segment. Like the Spark, the Accent offers up generous standard features and boasts a stylish, user-friendly cabin. In terms of fuel economy, though, the Accent falls short of the Spark's prowess. Additionally, while the Accent has some upscale options not found in the Spark, like automatic climate control and push-button start, you'll pay more for this Korean competitor.
Unraveled, the Chevrolet Spark, with its competitive fuel efficiency, advanced tech offerings, and appealing price point, holds its own in a crowded market. Sure, there will be trade-offs, but what you get for the price is an impressive orchestra of cost-effectiveness, modern features, and superb urban driving efficiency. Whether you're navigating dense city traffic or striving for that near-impossible parking spot, the Spark proves it's not just another city car – it's a spirited companion for modern urban life.
User Reviews and Feedback
The court of public opinion is a powerful venue, and car enthusiasts aren't shy about sharing their takes on the Chevrolet Spark. The verdict seems split between folks marveling at its novelty and those purely talking practicality.
Let's start with those enchanted by this diminutive transportation solution: the city slickers. With concrete jungles as their playgrounds, they sing praises about the Spark's spunkiness, compact dimensions, excellent visibility, and smooth ride. Many delighted users reported painlessly parking in tight quarters, an oft-frustrating city driving experience transformed into an oddly satisfying achievement.
On to surprise factor: a disgruntled bass-player loving the hatchback's surprisingly large cargo space that accommodates his gear. Another customer, an adventure junkie, was in awe of how much camping gear she could cram into this pint-sized miracle of automotive design.
Those rooted in practicality also have their say. Comments frequently shower kudos on the Spark's fuel efficiency. When you're chasing cabs and dodging pedestrians in New York City's pulsating arteries or making your way through the snaking lanes of San Francisco, high MPG ratings really hit home. The Spark qualifies for the urban warrior award, according to these ecstatic consumers.
But let's also hear it from the detractors, shall we? Some folks find the Spark's minimalist interior a bit too sparse, and the highway performance doesn't garner raving reviews across the board. Some think it's a solid option for city driving but falls a bit short for those long, open-road weekend getaways.
It's not a one-size-fit-all motorworld out there, after all. So, while the Chevrolet Spark continues to build its urban dweller fan club, there's room for improvements to satisfy our not-so-smitten-speedsters. Feedback of this sort is essential – it aids automakers in making their vehicles better with every model year. The Spark, despite its modest size, is no different when it comes to such evolution. So, potential buyers, read these reviews, ask your questions and decide if you're ready to join the Spark club.
FAQs
What is the fuel efficiency of the Chevrolet Spark?
Ah, well, the fuel efficiency of the Chevrolet Spark is like an athlete on a diet, svelte and not indulging. Officially, EPA estimates stand at a cardio-pounding 30 MPG city and 38 MPG highway. So, your wallet won't feel like it just ran a marathon after every fill-up.
Is the Chevrolet Spark spacious?
The Spark is like a cleverly organized studio apartment on wheels, maximizing its cozy confines without making you feel claustrophobic. So, unless you're planning to transport a piano or a full-sized bison, it should work just fine.
Is Chevrolet Spark a good urban car?
Why, of course it is! The Spark is like a squirrel in the big city – small, agile and perfectly at home in a concrete jungle. It'll zip through traffic like a hot knife through butter and find parallel parking spots where larger cars wouldn't stand a chance.
Conclusion
In retrospect, the Chevrolet Spark perfectly embodies urban driving efficiency. It sports a compact design that tackles tight parking spots and dense traffic with ease, while going easy on your wallet with impressive fuel economy. The in-car technologies ensure you never lose touch, or your way. It's a nimble choice for city dwellers seeking a car that smartly matches the fast pace and narrow sidewalks of the urban jungle. It's clear that with the Spark, Chevrolet has quite literally fired a winner in urban mobility.